WHAT WE DO
Augsburg International (AI)
BCP advises the owners of AI its sale of a 51% stake to Autonet (Swiss Automotive Group)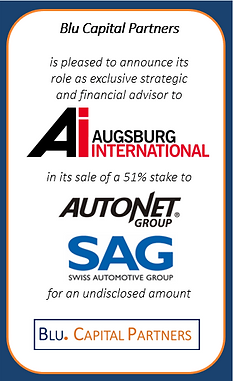 Overview of the Company​
Augsburg International is the number 4 supplier in the Romanian aftermarket segment, with a turnover of 116 million euros (2020), being founded 25 years ago by Marius Constantinoiu.
​
Overview of the Transaction​
AI has over 650 employees and highest standards of import and wholesale distribution for spare parts in Romania, including mechanics, bodywork, service equipment, fleet mgmt services, for cars and commercial vehicles.

AI operates out of a central warehouse, 3 regional centers and 36 regional warehouses in Romania, with a nation-wide storage area exceeding 20,000 square meters.

AI's shareholders in 2019 AI started looking for a strategic partner to support AI in its development efforts towards further gains of market share, as well as supplier and operational efficiencies.

AI's family owners Marius Constantinoiu (President) and Gina Iordache (CEO) have mandated BCP in 2020 to organize the identification, selection and completion of a transaction with an international strategic partner.
Importance of the Transaction​
After 25 yeas of entrepreneurial efforts, the owners of AI realize a partial exit value and enter a long-term strategic partnership with a leading international player to drive sales and operational synergies.
Blu Capital Partners' Role​
BCP has organized a competitive selling process, obtaining more than 5 offers from relevant strategic investors.

BCP has advised AI's owners in structuring, negotiating and implementing the transaction with the selected investor, the Swiss group SAG.

This transaction highlights BCP's capacity in structuring strategic transactions with international investors, as well as its key role in generating favorable outcomes for entrepreneurial companies.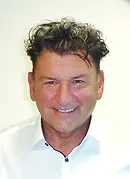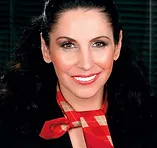 "Blu Capital Partners (BCP) led by Tudor Mafteianu represented the family owning Augsburg International, in its exclusive role of strategic and financial consultant, for the sale of a 51% stake to Autonet Group Holding (Swiss Automotive Group). BCP attracted a number of strategic investors for Augsburg International. BCP has achieved a competitive selling process where we managed to attract offers from several strategic investors. BCP carefully advised us in selecting the right investor for AI and led the structuring, negotiation and implementation of the transaction successfully with the selected investor, AGH (Swiss Automotive Group). I recommend BCP to entrepreneurial businesses who are looking to start strategic investment or development projects."
Marius Constantinoiu, President of Augsburg International
Gina Iordache, CEO of Augsburg International