WHAT WE DO
Tester Grup (Solo Park)
Blu Capital Partners advises Tester Grup on its sale of the Solo Park to Oresa Ventures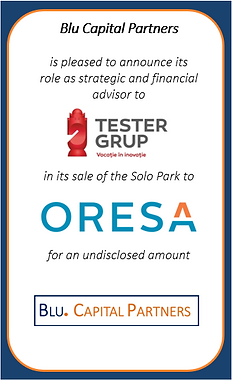 Overview of the Company​
Tester Group is one of the oldest entrepreneurial businesses in Romania, being established 28 years ago and having investments in various fields such as automotive, offices, industrial, insurance, logistics and transport.
​
Overview of the Transaction​
Solo is a Class A Industrial & Logistic Parc of 20,000 sqm developed by the Tester Grup in Iasi. Solo has blue chip tenants such as Lear Corporation and Altex. Solo Park offered development potential to the buyer.

BCP has attracted offers from a range of investors, and advised on the structuring, negotiation and implementation of the transaction with Oresa Ventures, the chosen buyer.

Through this transaction, Oresa entered the real estate segment in Romania. The transaction was financed from Oresa's own funds and bank financing provided by Raiffeisen Bank.

Oresa, an investment company with Swedish roots, has been present in Romania since 1997. Since then, it has invested about 200 million euros on the local market, in about 15 companies (incl. medical services business Medicover (clinics and hospital) and Synevo (the laboratory business).
Importance of the Transaction​
By selling Solo Park, Tester Grup has generated liquidity for the Group, which will be used to diversify its investments in different sectors
Blu Capital Partners' Role​
Blu Capital Partners acted as exclusive strategic and financial advisor to the Tester Grup for the sale of the Solo Park

BCP supported Tester Grup throughout the sell-side process from deal marketing to deal closing

This transaction highlights BCP's network with real estate and industrial investors, as well as its advice in generating favorable outcomes for entrepreneurial companies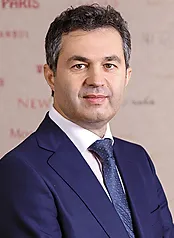 "Blu Capital Partners (Tudor Mafteianu) represented the Tester Grup in the role of strategic and financial consultant to attract an investor for the Solo industrial & logistics park in Iași. Thanks to Blu Capital Partners' (BCP) relations with a wide range of investors, BCP has achieved a competitive selling process through which we managed to attract offers from several investors, both local and international. BCP advised in choosing the right investor for the Tester Grup, namely the investment fund Oresa Ventures. BCP brought the necessary arguments in the negotiation and assisted the Tester Grup until the successful completion of the transaction with Oresa Ventures. I recommend BCP to entrepreneurial businesses that want to attract investors."
Bogdan Pitigoi, President of the Tester Grup