Zurich and Office Samurai's Strategic Partnership Advised by BCP
Blu Capital Partners (BCP) advises Zurich Insurance Group (Zurich) in its strategic partnership with and partial spin-off from Office Samurai (RPA, or Robotic Process Automation)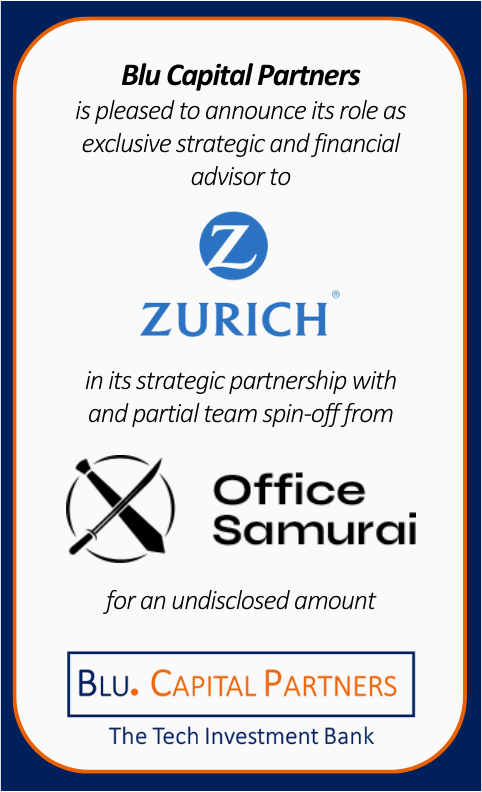 Overview of the Company​
Zurich Insurance Group ("Zurich" or "ZIC") is a leading multi-line insurer that serves customers in more than 215 countries and territories. With about 55,000 employees, it provides a wide range of property and casualty, life insurance products and services
​
Overview of the Transaction​
Zurich is ramping up the transformation of its global business to meet the rapidly changing needs of consumers, and recently launched a new unit to expand digital services worldwide and create an improved experience for its customers.

Office Samurai's Robotic Process Automation (RPA) expertise together with knowledge of insurance process automation fits ZIC's long-term tech vision.

BCP has represented Zurich in its role as exclusive strategic and financial advisor in establishing a strategic partnership with and realizing a spin-off team from Office Samurai.
Importance of the Transaction​
As one of the largest insurance companies in the world with a diversified product range, ZIC plans to further grow its RPA capabilities across many use cases, including internal process optimization, customer-facing applications, and cross-department process integrations.

The specialized RPA team is expected to be led by the ex-head of Symphony Ventures Poland Lukasz Gargasz under the ZIC's Head of AI Automation, and it is expected to cooperate closely with other cutting-edge technologies (such as Robotic Process Automation, Cognitive Artificial Intelligence, and others).
Blu Capital Partners' Role​
BCP acted as exclusive strategic and financial advisor to Zurich.

BCP supported Zurich throughout the screening process from mapping RPA partners in Eastern Europe to selecting the appropriate partners & teams, negotiating partnership documentation on behalf of ZIC, as well as managing the strategic partnership process up until completion.

This project highlights Blu CP's sectorial expertise in technology, as well as its advice in generating favorable outcomes for traditional corporates looking to integrate cutting-edge technologies in day-to-day operations.